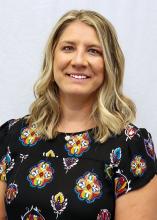 Director of Community Impact
(601) 475-0218
Amy Lyon is the Director of Community Impact at United Way of Southeast Mississippi, where she assists the organization in achieving long-lasting, meaningful community change and impact throughout Forrest, Lamar, Marion and Perry counties. Additionally, she is responsible for overseeing the process of funds distribution, funded agency support, community research and community collaboration.
Born and raised in Maryland and Pennsylvania, Amy moved to Hattiesburg in 2010. She has a Bachelor's degree in Psychology and Business Administration from Towson University and a Master's degree in Mental Health Counseling from Shippensburg University and has experience in nonprofit as a substance abuse clinician and Program Coordinator for Supportive Services for Veteran Families, a federal grant that serves very low-income U.S. veteran households who are homeless or at imminent risk of becoming homeless in South Mississippi. 
Lyon's husband, Mickey, is a Hattiesburg native who serves full-time as a logistics officer in the Mississippi Army National Guard at Camp Shelby. They have 3 children: Emma Claire (17), Hadden (16) and Charlotte (2), as well as an 11-year-old dog, Wrigley, a rescue from Southern Pines Animal Shelter. She loves reading, swimming, and teaching fitness classes at the Petal YMCA.