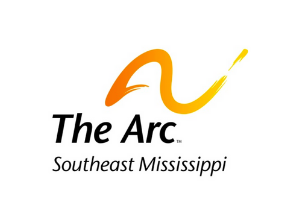 Description & Mission
The Arc promotes and protects the human rights of people with intellectual and developmental disabilities and actively supports their full inclusion and participation in the community throughout their lifetimes. In addition, The Arc provides information and referral to broaden community knowledge, acceptance of and interaction with people with mental disabilities. The Arc provides services to this population and their families through such programs as After-School Child Care (state licensed), Men's Respite, Ladies' Respite, Weekend at The Arc (respite for individuals with disabilities that require the services of a nurse), Friends Night at The Arc, Summer Adventures, Mother's Day Out and adult activities, such as dances. The Arc also participates in a special buddy program developed to provide "buddies" for children with disabilities. 
Health Partner Agency, Healthy Beginnings & Quality of Life
United Way of Southeast Mississippi funds are used to support the Rise and Shine Adult Day Program. These funds assist with the upkeep and use of facilities for the 50 individuals who attend the program daily, programming fees for their outings and activities with the community, fuel and transportation to those activities and healthy foods and snacks for nutrition lessons. Grant funds are also utilized to support the salaries of employees overseeing the Adult Day program. 
The Arc SEMS in the News
The Arc of Southeast Mississippi Rise and Shine program has gone virtual! Tune in to the Arc's Facebook page to see how they've been staying in touch with their adults clients via Zoom during the COVID-19 Pandemic.

A Letter from The Arc's Gentle Giant "GG"
When I was in my early 20s, I lived in a private group home in another city and attended the programming they offered. In 2018, I had to leave this facility due to financial reasons and move home without any programming plans. Thank goodness, we found out about The Arc! I began attending the Rise and Shine program last year and it has been such a positive experience for me. 
I was diagnosed with Asperger Syndrome and Bipolar Disorder. It was very difficult for me to control my emotions when I was younger. However, I have learned much control in my adult life. It's very hard to control these feelings if you don't know what is wrong with you. I still have anger as a grown man and temptations to hit my hand against a wall, but I can now tell myself it won't end well by taking these types of measures. 
Rise and Shine adult program has been the perfect place for me. First, I LOVE the people there...the staff and the participants. The staff are very personable and face to face with participants. I can connect with them and actually have positive relationships. I feel respected by them and they often allow me to assist them with certain jobs. Likewise, I can connect with the other participants. There is an adult "SS" who has autism and he is fascinating to me. He speaks and I have to really think about what he says, but then I make the connection on what he's trying to communicate. He is capable of so much and Rise and Shine has given me the opportunity to see this in others. At times, some participants can "overload" me, but I've learned from my personal experiences how to "talk them down". 
We have a beautiful campus and I love that we have a gym on site. I also love having the small sensory room. One thing I've learned, we all have problems with certain sounds and need a calming space, we need different textures to touch, the opportunity to swing and much more. We also have great community partnerships with Anatomies and Kinetix which allows us stimulating exercise/activities that are appropriate for adults. Several years ago, I weighed 400+ pounds and have lost over 200 pounds. So, exercise is a vital part of my day. A few days ago, I experienced some depression, so I began exercising in the gym. And exercise was very beneficial and I could feel my depression decreasing as the endorphins were released. 
Our pottery program is very therapeutic and rewarding. During the day, we are offered a variety of activities and choices. We are taken on fabulous trips throughout the community. I love the fact that we are given options, NOT orders. 
In my previous living situation, I didn't have the opportunity to have a girlfriend. At Rise and Shine, I feel God dropped someone very special in my lap for a reason. She helps calm me down, she helps me control my language, she is friendly, sweet, pretty, and guides me. And, she is like a typical woman....she blows up my phone if I'm late!! 
Rise and Shine has been the perfect place for me to gain mental and physical control. After all, if you can control the mental, you can gain control of everything. I am very thankful that I wake up each day with a place like Rise and Shine to attend.