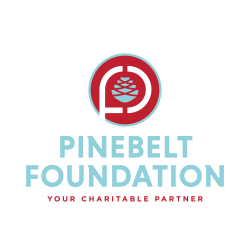 Description & Mission
The Pinebelt Foundation supports good work and effective charities in the community to help solve today's problems. It also invests charitable resources to maximize charitable work in the future. The Foundation also works to connect donors with other organizations in the community to engage in conversations, expanding ideas. It is with the dedication of its staff, board, and volunteers that the Foundation can lead efforts to strengthen the Pinebelt through grants and programs that meet the community's most pressing needs. 
Education Partner Agency, Grade Appropriate Reading Levels
United Way of Southeast Mississippi funds are allocated to the AMPACT Reading Corps program serving the Hattiesburg Public School District. This is an AmeriCorps program that is funded through collaborative efforts from community organizations and local churches to provide literacy tutors at four elementary schools: Thames, Hawkins, Rowan, and Grace Christian.
Pinebelt Foundation in the News
Right now, the Pinebelt Foundation is accepting applications from nonprofits who have been impacted by the COVID-19 Pandemic. Funding is provided through the MS CARES Act. 

Meet Thomas.
Thomas is a third grader in the Hattiesburg Public School District who receiving tutoring through an AmeriCorps program provided by Pinebelt Foundation and funded by United Way SEMS. When he started tutoring, he was reading below grade level. With the third grade reading gate approaching, Thomas's teacher was concerned he would be held back without further intervention. After a great deal of hard work from Thomas and with the help of his tutor, Thomas is now scoring at or above grade level on his benchmark exams.
Although this was a success in itself for Thomas, this program also proved another purpose. Thomas is the oldest of three living with his mother and his tutor was there to act as a positive male role model for the child. Now, not only is Thomas reading better, but he has had fewer behavior problems while attending school.