HATTIESBURG, MISS. – Sixty-three year old Mark Odom of Petal was mowing his lawn when his wife, Teresa, motioned him to stop and told him he had just won $100,000.
The couple have been participating in United Way of Southeast Mississippi's $100K Payday Raffle for nearly two decades. But they had never won before—until now.
"I didn't believe it, I thought they were joking with me," said Odom regarding his wife and friends, who had started to arrive in his driveway, assuring him he had just been named a winner. "I looked [at my phone] and I had 10 missed calls. I looked at her – did I really win?"
One of those 10 missed calls was, in fact, from United Way CEO Tracie Fowler informing him that his had just been selected from a barrel of 2,301 tickets during the live televised drawing event held March 16 at Keg & Barrel West in Hattiesburg. 
But Odom said his big win almost didn't happen.
"We've bought a ticket every single year since the house giveaways. But we were so behind on everything this year and kept forgetting to buy a ticket," he said. "And then we got that text [reminder], and I sat down and bought one right then. This is the first year I bought online."
The past year has been a hard one for Odom and his family. His mother passed away and he became responsible for his disabled brother. While his primary job has been selling commercial trucks for Waters International in Hattiesburg for over 30 years, his passion is tending to his cattle on the dairy farm handed down from his grandfather. When his mother got sick, however, Odom had to sell his cattle and focus on helping her. So the first thing he did with his winnings was restock his farm with 25 new cows.
"I would say it is a life-changing thing for us…This is such a peace of mind for us. It was like the sunshine came out after the rain."
Tracie Fowler said it's stories like the Odoms' that have inspired so much community support through United Way's Payday Raffle year after year.
"One of the greatest things we've enjoyed seeing through our Payday Raffle over the years is that our winners are usually local people who need this money," said Fowler. "It's added another layer of value to this fundraiser, because not only are the proceeds from ticket sales making a huge difference throughout our community, the money we're giving away at the end is changing lives as well."
The raffle is the second largest source of revenue for United Way of Southeast Mississippi, behind its annual Workplace Campaign in the fall.
Proceeds from the fundraiser go back into the community through the form of grants to United Way's local nonprofit partners and the programs it supports. These grants specifically fund improvement efforts across four key impact areas: education, health, economic mobility and support services.
Odom said that's exactly why he and his wife have always supported United Way by participating in the raffle – that and the chance to win a lot of money, of course.
"United Way helps so many people…It's local people helping local people, and that's what I like. It's Southeast Mississippi. It's where we live, it's where we work, it's where we raise our kids. And that's why I like this organization."
As for what Odom will use his winnings to do next?
"He promised me and [my girlfriends] a vacation," said Teresa Odom with a big a smile.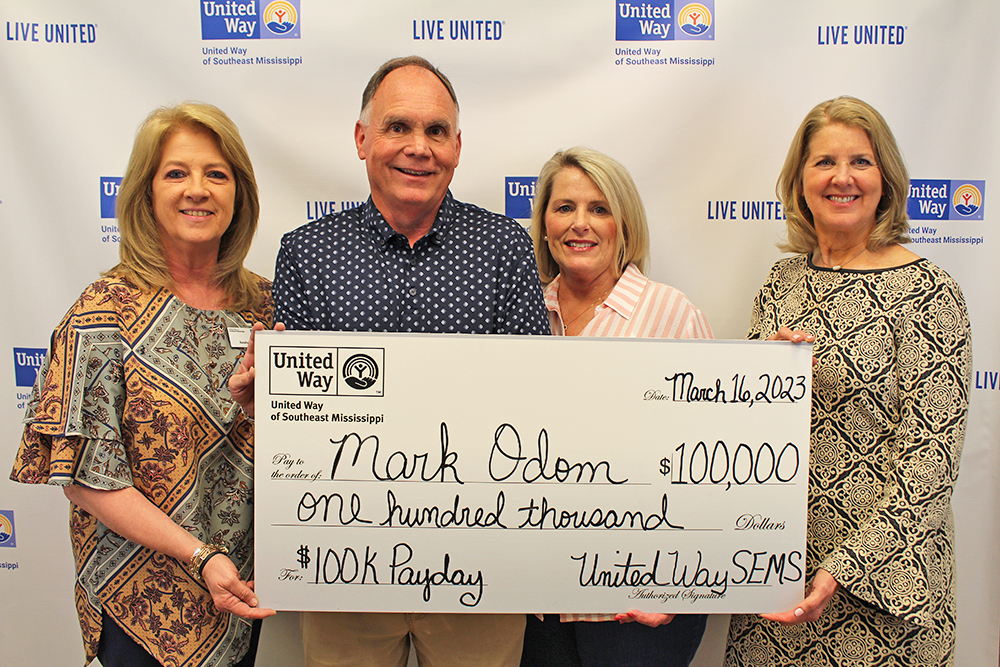 Pictured from left: United Way Finance Administrator Renita Hatten; $100K Winner Mark Odom; Teresa Odom (wife) and United Way CEO Tracie Fowler.